At Schlossböckelheim (few kilometers to the south of Waltbeckelheim)
Franz CANTON lived present first ancestor
.
His first child Anna Catharina is born on 05.11.1687 in D-Waldböckelheim/ Rhine Palatinate. Eight children are following even further.
That he was born around 1658, one can suppose out of this and from his mortal date on 15.02.1733 .
His wife calls Anna Catharina NN.
About 1675:
Around Waldböckelheim stay regiments of French, Scottish, Irish, Lorrain, Lüneburg and Münster, occasionally also troops of "Lorrain Princ de Lisbone und Vandtemont". R. Seil, in 1999, page 82 [RP01]

R. Seil writes in 1999, page 349 [RP01] to the foreign-language names in 18. and 19. century in Waldböckelheim :
The often named Dupuy (spellings is known in general: du Puy, Dupuits, Dupuis) ..., and in the twenties of 17. century (Problem Richelieu/Huguenots in France) to Waldböckelheim moved.
Besides were found: Anselmino, Bleau, Damisier, Didier, Dupont, CANTON, CANDO, Cadoli, Corpion, Credin, de Feignies, Marquis, Martini, Maslean, Ranly, Ruquet, Suquet, Stissois, Tamisier, Theri, Toset, la Violet.
The Village Chronicle of Schlossböckelheim, R.Seil, in 2000, page253 [RP05], get the emigration of the family CANTO (N) to Western Pomerania (Vorpommern) and Jülich/ the Lower Rhine. The name is shown likewise still at other places in this book .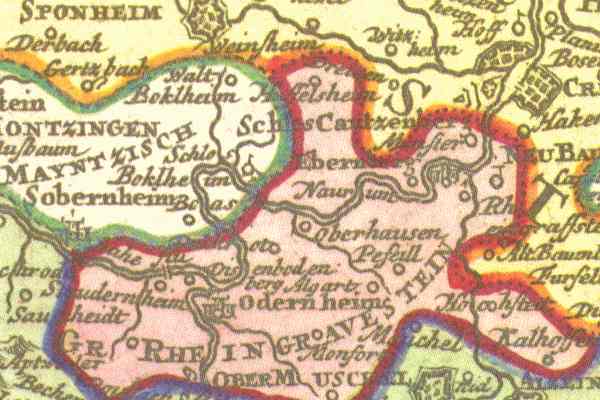 J. B. Homann, 1714 archiv of country Speyer. Extract from map: "BOKLHEIM" und "SCHLOS" im "MAYNTZISCH"en situated.
Here lived our great-grandfather Franciscus Canton with his family around 1685 -1733. It is also a typical extract from map from "patchwork blanket" of Rhin-Palatinate in 18th century.

Kath. parish register Waldböckelheim 1733, Translation and copy from Georg Gruber. Extract from map: "obyt in valle..Franziscus CANDO,..sepultus est in Waldbl." (..dies in Tal.. F.C., ..buryt in Waldbl:)
"Officially" from the Diocese Archive Trier: [RP02]
The grandfather of the great-grandfather of my great-grandfather marries 1687 an Anna Catharina NN.
His son Johann Phillipp marries in 1714 the Maria Eva Kus.
The date of birth and place of origin is not known of the first ancestor Franz Canton.
The first godfather's names with the first ancestor Franz could be a help with the other trace search:
Catharina Lauff
Maria oo with Christoph Karst from Norheim
Anna Barbara oo with Georg Geiss
Maria Elisabeth Griesbach
Michael oo with Sophia Schanbtz
Johann Braun
By the way, the ancestor of Western Pomerania Cantow's in the Hoppenwalde which becomes Andreas Canto/ Cantow (Schloßböckelheim/ Hoppenwalde) not performed in the church registers of Waldböckelheim [RP08] Karbach in 1994, page118 .
It gets the Elias therefore. Andreas and Elias are one person as Andreas Elias finding at study of original church books.
The church registers go back for:
Baptisms: 1677
Marriages: in 1701
Mortal cases: in 1700
In an inhabitant's list of Thalböckelheim of 1673 one still finds no Canton/Canto.
After R. Seil [RP05] page 256 is given for 1721:
Frantz Canton
Johan Philipps Canto
In an arrangement of Carl Velten in [RP11] page 72 one finds the inhabitants from the 23.12.1743:
Peter Canton
Michael Canton
Philipp Canton

2. Information to the everyday life of our forefathers with his miseries, joys and monotony
To the life circumstances of Franziscus Canton Josef CANTO [JL01] has been quoted in his documents of 1970:


The State Archive in Koblenz informed me to Franz: "from a food slip of paper" and list of the landed property of Franz Canton, put up on 18.9.1720 (Abt. 655,44 Nr.4) we get to know about him:

At that time he was 62 years old, would have to be born 1658; his wife was younger 2 years, another 6 children lived it at the age of 30-10 years. Franz C. called himself bricklayer who can no more exercise his craft to something remunerative, however, because of his paralyzed arm and because "his face passes to him" already for some years.

Some time later he is called man complete blind to. Indeed he owned some, mostly very bad goods which he had to allow to farm because he himself had no horse-drawn vehicle.

He inhabited a small, bad house at Talböckelheim which was torn away at the end of July, 1719 by an aquatic flood half of it and could not be put by him because of poverty yet again in state.

It stood cramped for space between brook and rock and bordered with a side on the well place.

"About Canton origin every tip is absent".

Flugblatt 1621, Stadtarchiv Bad Kreuznach.
Ausschnitt: BECKELHEIM 1620/21.
Schloßböckelheim 1620:

The Italian Ambrosius Spinola from Genoa and in Spanish services has fighted for the German emperor Ferdinand III. The castle Schloßböckelheim is conquered under a lot of towns and castles also.

Leaflet 1621, Town Archive Bad Kreuznach.
Extract from map: SCHLOSSBECKELHEIM bombs with 145 shots.
There being 200 Spanish dead people at defence in 1621. The biggest loss of Spain in the Palatinate campaign to this time. And, hence, on the copperplate the roof of the castle is absent.
The castle is being leveled from the French in 1688.

1684:

Pedro II of Portugal married in the second marriage Maria Sophia of the Palatinate. W. Fischer, in 1856, page 66 [AL01]

Except Waldböckelheim there is still castle Böckelheim (1688 of French leveled) and Schlossböckelheim which was used to H.Hahn, in 1900, page 70, 79 [RP04] as a garrison.

Moreover writes H. Hahn, in 1900, page 32,45,83 [RP04] among other things farther:

The castle men were often given fiefs also. The castle team belonged to the serf's state and was maintained by the rule

. ... sold in 1775 her interest in Boos to Baron Vieregge in Munich.

The interest of the Baron of Vieregge had in 1786 120 inhabitants in Boos after identity card of a duplicate of the man's book (list of the serfs). The list lies in the local records.

Both parts of municipality Thal and Schloss are called separate till the beginning of 19. century
From the beginning 19. century = Thalböckelheim for both parts of municipality
From 1911 = Schlossböckelheim for both parts of municipality
Since 1920 there is the part of municipality Kolonie which likewise belongs to Schlossböckelheim.
A church there was always only at Waldböckelheim. A castle priest Haust is called 1673 for the existed castle chapel. R.Seil, in 2000, page 40, 293, 258 [RP05]

... and it was spoken Palatinate dialect! Here a linguistic sample from the Shrove Tuesday: A. Becker, in 1920 page 299, 297, 171 [RP10]

Dort drowe in de Ferscht,
dort hängt e Stang voll Werscht,
do ess die än so klän,
do nämm ich zwo vor än.


Verzehn Daa vor Fasenacht
hot mei Vadder e Sau geschlacht.
Verzehn Daa denoo-
is nix mee davo doo.


Thus it does not surprise if about 1740 maybe our Andreas Elias is asked as him by Mr. priest which the highest three holidays are, freshly answers:

The Holy Shrove Tuesday,
the Holy Sow's Battle
and the Holy Parish Fair Celebrate, Mr. priest.


1618-48

30-Year-Old War

1620
24000 Spaniards in surroundings of Waldböckelheim introduce Catholic belief again.

1631
Swedish soldiers

1636
French soldiers

1688-97
Orlean War (Result of Intestate of Palatinate)

1688
Castle Böckelheim leveled of French. 200 residents at this time at Waldböckelheim

1701-15
Spanish War of Intestate

1734/35
Polish War of Intestate: Austrian, Croatian soldiers

1742
Tenth barn is rebuilt at Waldböckelheim.
Indeed, this was not some Canton's at Thalböckelheim in this time from advantage R. Seil, in 2000, p.68, 69 [RP05], because the ruling poverty became, e.g., in 1748 increasingly by the deforestation arranged by the Palatine Chamber of Court of the Hahnenwald for a saltwork in Kreuznach. The villagers used this wood before as a cattle and pig mast.

1756-63
Seven-Year-Old War: French soldiers


1766
Lorraine comes to France finally